2013 ANNUAL DINNER & AWARDS
The Nacton Cricket Club Dinner and Awards was held at Seckford Golf Club | Terrace Restaurant on Saturday 5th October. Members had a fantastic evening with great food and company.
ROLL OF HONOUR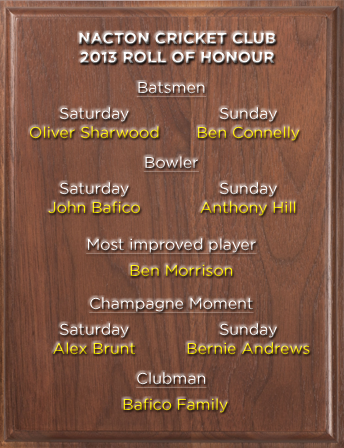 The club has several awards which were presented by Chairman Ellis Baker, Saturday Captain Ben Glading and Sunday Captain Dave Simmonds.
Saturday Batsman of the Year - Oliver Sharwood
Saturday Bowler of the Year - John Bafico
Sunday Batsman of the Year - Ben Connelly
Sunday Bowler of the Year - Anthiny Hill
Most imporoved player of the year - Ben Morrison
Saturday Champagne moment - Alex Brunt
Sunday Champagne moment - Bernie Andrews
Clubman of the year - The Bafico family
Other awards for maiden club centuries:
Oliver Sharwood, Ben Connelly and Ben Morrison
Other award for maiden 5 wickets:
Warren Cutting
Photos