FOR ALL CHILDREN AGED 7 - 11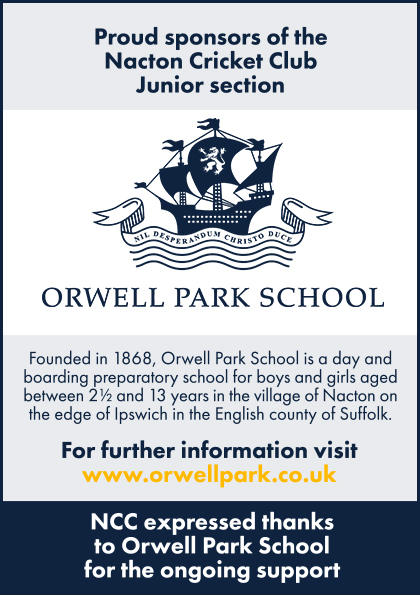 (School years 3 - 6)
Playing cricket is the perfect way to make friends and learn new skills. Cricket is open to all and our cricket club is offering opportunities for children aged seven to eleven to learn the game.
What to expect
Our 90 minute sessions will help juniors develop the skills that will stay with them for life, alongside helping them to understand the most important part of the game: fun! From absolute beginners to a budding Ben Stokes or Heather Knight we will have a variety of cricket skills and games which your child will be taught.Our aim will be to further your childs potential, which they can take into senior cricket
Sundays 9.30 AM - 11.AM
Open / Taster Session (FREE) on 1 May 2022
Main sessions: 8 May 2022 - 31 July 2022
Girls and boys welcome
Run by ECB Qualified coaches
For more information contact nactoncc@gmail.com
How much does it cost?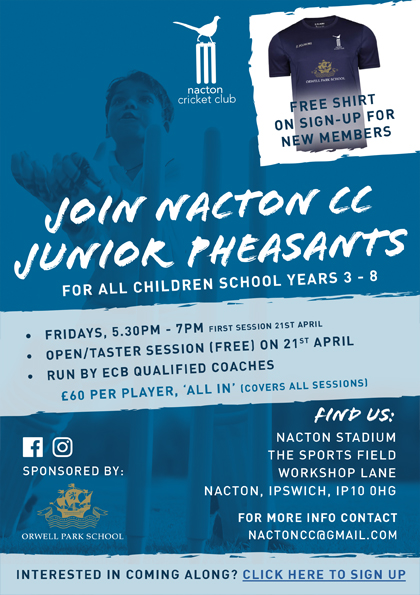 We are running the session from May through to the end of July each and every Sunday morning (weather depending). We are having one FREE taster session followed by 13 weeks of paid session all of which are covered by the all in cost of just £50, that equals £3.85 per session plus a great shirt FREE.
Junior Membership
£50 One Off Payment (Covers all sessions)

Upon signing up each child will receive a FREE SHIRT
How to pay
For those that are paying by cheque please make your cheques payable to "Nacton Cricket Club" and either hand it to Coaching Staff or Alternatively you can send it to the following address:
Clive Ralph
Orwell View
Bridge Road, Levington
Ipswich, Suffolk
IP10 0NA
If paying by cash, then please give it direct to the Coaching Staff in an envelope with your childs name clearly marked on the front. Please do not send cash in the post.
DIRECTLY TO OUR NEW BANK ACCOUNT

Bank: NatWest
Account Name: NACTON CRICKET CLUB
Amount: £50.00 (one-off payment)
Sort Code: 53-61-24
Account No: 71964681
If paying by this method please email to let Clive Ralph know that payment has been made and provide details of the amount and which child the payment is for.
If you have any further questions then please email or Clive Ralph on 01473 659181