2015 ANNUAL DINNER & AWARDS
The Annual Dinner and Awards night was held at the Seckford Golf Club | Terrace Restaurant on Saturday 3rd October 2015. This was be our third year at this venue and like on previous evenings it was a great night. It was so good to see as many players, non-players, family and friends attending.
ROLL OF HONOUR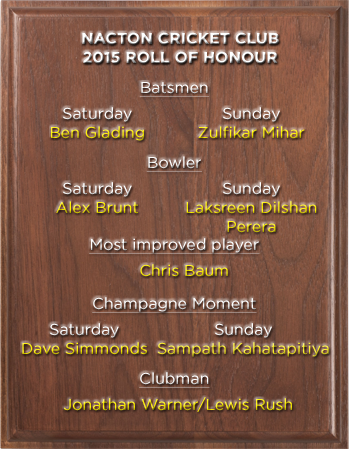 The club has several awards which were presented by Chairman Ellis Baker, Club Secretary Mark Adams , Saturday Captain Jonathan Warner and Sunday Captain Lewis Rush.
Jonathan Warner and Lewis Rush were given the Clubman of the Year award for thier efforts relating to the team management
Full run down:
Saturday Batsman of the Year - Ben Glading
Saturday Bowler of the Year - Alex Brunt
Saturday Champagne Moment - David Simmonds
Sunday Player of the Year - Zulfikar Mihar
Sunday Bowler of the Year - Laksreen Dilshan Perera
Runner Up Trophies - Section C - The Entire Sunday Side
Sunday Champagne Moment - Sampath Kahatapitiya - 5 for Castle Away
Most improved - Chris Baum
Monkey of the year - Lewis Rush - Getting lost on his way to Rumburgh and ending up at Aldeburgh
Special Mentions - Warren Cutting - First Hatrick versus Eye & District
Other awards were handed out and the results of this can be seen on the honours board. It was another fantastic evening.