2016 ANNUAL DINNER & AWARDS
The Annual Dinner and Awards night was held at the Waldringfield Golf Club on Saturday 1st October 2016. This was a new venue after three years at Seckford Hall Goft Club. It was brilliant to see as many players, non-players, family and friends attending. A three course meal was arranged for the bargain price of £20 per head and enjoyed by all. The post dinner speeches were made by Ellis Baker, Alex Brunt and Lewis Rush.
ROLL OF HONOUR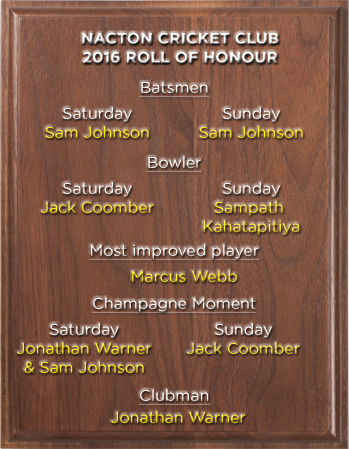 The club has several awards which were presented by Chairman Ellis Baker, Saturday Captain Alex Brunt and Sunday Captain Lewis Rush.
Awards won included
Clubman - Jonathan Warner
Saturday Batsman of the Year - Sam Johnson
Saturday Bowler of the Year - Jack Coomber
Saturday Champagne Moment - Jonathan Warner and Sam Johnson
Sunday Batsman of the Year - Sam Johnson
Sunday Bowler of the Year - Sampath Kahatapitiya
Sunday Champagne Moment - Jack Coomber
Most improved - Marcus Webb
Special Mentions - Ben Glading, Jonathan Warner, Jack Coomber and Sam Johnson all for scoring at least one 100