CELEBRATING 50 SEASONS
August 26th 2014 marked a special occasion for Nacton Cricket Club. The current Chairman Ellis Baker reached a fantastic milestone of completing 50 seasons playing for the same club. A special presentation took place on the last day of the clubss Cricket Weekend. Ellis had started his career at Nacton in a quiet fashion scoring no runs and did not bowl in a match against Easton on August 10th, 1963. Ellis seemed surprised at a gathering of current and former team mates at tea.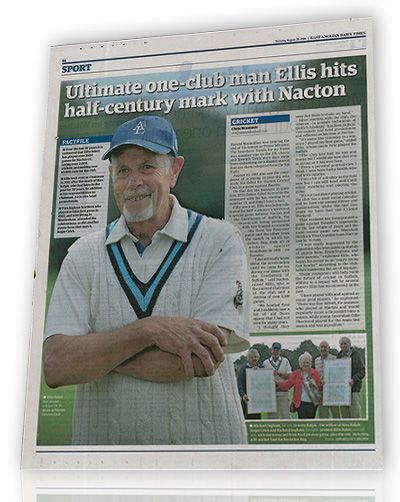 The wife of former chairman Doreen Ralph presented two framed scorecards. One was Ellis' first match and the other was a scorecard were his father took 10 wicket-haul in a match. It was fantastic to see some of Ellis' team mates from that first match in 1963 at the ground to shake hands and catch up on old times. Michael Ingram, Roger Crick and Richard Ingram were on hand at the presetation.
EVER PRESENT
Ellis started his playing career as a 13 year old in 1963. It is estimated in the 50 years he has played 2,500 games, scoring 10,000 runs and 2,000 wickets. He has turned out in league matches on both Saturday and Sunday in the 2014 season which is a testimant to his cricket abilities. Ellis has held most positions in the clubs from captain to chairman, secretary to groundsman but never treasurer, which Ellis sniggered at during the presentation. It must be said that Ellis is a true one-club man and his dedication to Nacton CC is much appreciated with the current players, family and friends. We hope that Ellis will continue to turn his arm and throw the bat as he has done for the last 50 years.
Photos from the day